Marion County Community Foundation is led by a Board of Directors, which was selected to represent residents in all areas of Marion County. All directors have been involved in a variety of organizations that include members from more than one area of the county.
This helps promote the Marion County Community Foundation throughout the county and ensures that grants are properly focused on areas of greatest opportunity and assist as many people throughout the county as possible.
Entire County Represented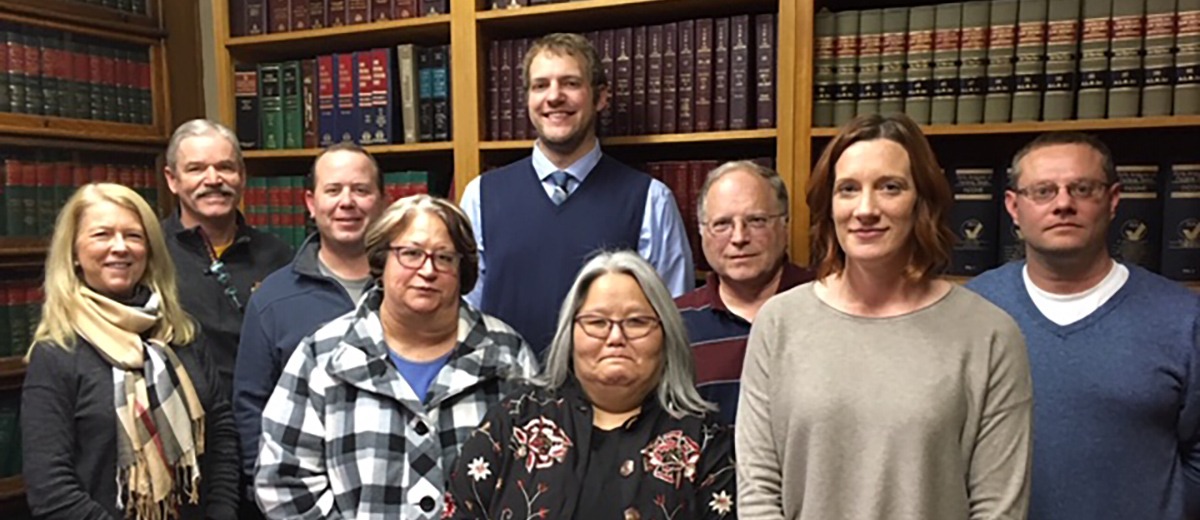 | Name | Home | Area Represented | Email |
| --- | --- | --- | --- |
| Ron Danks | Pleasantville | Northwest | rondanks@iowatelecom.net |
| Zach Dunkin | Bussey | Southeast | dunk94@yahoo.com |
| Lynn Hinga-Branderhorst | Pella | Northeast | lkbranderhorst@gmail.com |
| Kim Huffman | Pella | Northeast | kilehu@yahoo.com |
| Jacob Hughes | Knoxville | At Large | jake@johnsonlanelaw.com |
| Dale Miller | Knoxville | Central | dmill@iastate.edu |
| Curt Schwanebeck | Knoxville | Central | curt@schwanebeck.com |
| Jeremy Smith | Knoxville | At Large | jdscpa@iowatelecom.net |
| Jonith Van Waardhuizen | Melcher-Dallas | Southwest | waynevans1072@hotmail.com |
| Denise Hollingshead | Executive Secretary | | denise@johnsonlanelaw.com |
Ron Danks
Ron Danks is a graduate of Central College and has been an attorney in Pleasantville since 1994 where he has worked extensively in civil litigation, real estate law, and probate. He is a member of the Pleasantville Community School Board, a volunteer Little League coach, and a trustee of the Webb Shadle Memorial Fund. He has served as president of St. Anthony's Parish Council in Knoxville. Ron represents the Northwest area.
Jim Dunkin
Jim Dunkin retired in 2008 from the Army Corps of Engineers at Lake Red Rock after 26 years of service. Jim and his wife Lana have always lived in the Twin Cedars school district where he has been very active in TC athletics, having coached 28 seasons of both boys and girls sports. Jim is a Vietnam era veteran of the Army, has served on the Marion County Development Commission, and has been very active with the Twin Cedars Athletic Boosters.
Lynn Hinga-Branderhorst
Currently, I am co-owner of Nicks Greenhouse and Flower Shop. I grew up in Pella, Iowa, graduated from Pella Community High School, and later received a BA from Central College.
Most of my working career has been spent in the not-for-profit world. I have served as Executive Director for Neighbor To Neighbor Ministries and Hope Faith Ministries both located in Kansas City, Missouri; Program Manager at the Christian Opportunity Center in Pella, Iowa; and served as Executive Director of the Historic Pella Trust.
I am honored to be a board member for such an admirable organization as Marion County Community Foundation.
Kim Huffman
Jake Hughes
Jake Hughes is an attorney at the Johnson & Lane Law Firm in Knoxville, Iowa. He was raised in Newton and currently lives and works in Knoxville, where he is President of the Chamber of Commerce, on the board of directors for the Heritage Community Foundation and coaches the Junior and Senior High Mock Trial Teams.
Dale Miller
Dale Miller retired from Iowa State University as a Regional Extension Director in 2019 following his nearly 30 years serving as Marion County Extension Director for ISU Extension and Outreach. He developed the Leadership Red Rock program for Marion County. Dale holds a B.S. degree from Iowa State University and an M.S. degree from the University of Maryland. He has judged area and state horse shows, coached and officiated youth basketball, and served as a board member for many state and county organizations.
Curt Schwanebeck
I moved to Knoxville in 1960, and enjoyed growing up in Knoxville.  I started working at the Grand Theater at an early age. I was married in 1974 and raised three wonderful children. Since retiring from 3M, I have been involved in many volunteer activities. Most recently, I was instrumental in the reopening of the Grand Theater. I attend Trinity Lutheran Church and have been the high school Sunday School teacher and Youth Group leader for 25 years.
Jeremy Smith
Jonith Van Waardhuizen